About Casino Sign Up Bonus .org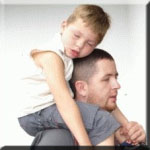 Welcome to the casino bonus directory.  My name is Graeme (pictured left with my son) and I am the owner of this site.  My inspiration for this site came when a friend asked me what the "best casino bonus" was as he wanted to play at an online casino.  I spent some time using Google to no avail – so many sites disagreed as to what the "best casino bonus" actually was.
I then spent some time looking around at online casinos and bonuses, and I realized there just wasn't one "best casino bonus" – it depended on my friends needs.  A bonus with a 10x rollover on slots is no good if my friend wants to play roulette.  A bonus on a site that doesn't accept Americans is no good because my friend is from Chicago.
That's how I came up with the inspiration for CasinoSignupBonus.org.
I went out and picked some of the "best" and most popular casino bonuses, used them, researched them, and then critiqued them.  You can see them in the sidebar, under "reviews".
I then sent out a survey to a database of online casino players, and got responses from over 4000 casino players.  The results of this survey are what fills up the sections like the Best Casino Bonus for Canadians or the Best Casino Bonus for Slots Players.  It may sound corny, but these are the best casino bonuses voted by the players, for the players.
I hope you enjoy this site, and anything I can do to make it better or to enhance your experience please just let me know.  You can e-mail me at site@casinosignupbonus.org.  Thanks!
If you are curious about the technical sides of things – the website is hosted on HostGator, and uses the content management system WordPress.  We used a premium wordpress theme called High Roller Black to create this site, although heavily edited it.  All graphics were created, designed and edited thanks to Adobe Photoshop.
---
"Trust our casino wizard to find the best casino for you! Our casino wizard will use his magic powers to find the best bonus for you - simply insert your favourite color, then roll those dice!"