Millionaire Casino Signup Bonus Review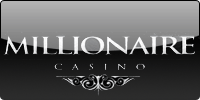 Millionaire Casino has a selection of the most popular casino games, including blackjack, craps, roulette and slots. Millionaire Casino is powered by the Vegas Technology software, and features progressive games and tournaments for slots and blackjack. Support is available by phone or email.
The casino signup bonus at Millionaire Casino is actually three bonuses in one. Combined, they offer a 100% matching sign up bonus of $5,000 spread out over your first three deposits. For your first deposit, you can earn a 100% matching bonus of up to $2,000. The second bonus is another 100% match of up to $1,000, and the third is another full matching bonus with a maximum of $2,000.
Of course, a signup bonus like this one has a number of requirements for you to meet in order to get your money. First, you have to make some wagers between deposits; if Millionaire Casino believes you're simply depositing multiple times to get more bonuses before you play at all, they'll return your money and forfeit your winnings. There's also a 20x minimum wagering requirement before you can cash out your bonuses. This requirement is calculated based on the combined total of your deposit and your bonus, so if you deposit $500 and earn a $500 bonus (a total of $1,000), you'll have to make $20,000 worth of wagers to claim the sign up bonus.
It's also worth noting that not all games count equally towards your signup bonus at Millionaire Casino. For many of the most popular table games, only a percentage of the money you wager counts towards clearing your bonus. For example: blackjack wagers only count towards your bonus requirements at a 20% rate. This means that if you want to clear your bonus playing only blackjack, you'll have to make wagers equal to 5x your wagering requirement in order to clear the sign up bonus. In the example above, with the $500 deposit and $500 bonus, that means you'll need to make $100,000 worth of bets on blackjack to get your bonus! Other games have mulipliers ranging from 5% (European Roulette) to 35% (Craps and many other table games).
Millionaire Casino's signup bonus might not be the easiest one to clear, but if you're looking for a large bonus that can be cleared playing the games of your choice, this could be the right deposit bonus for you.
Millionaire Casino has a variety of deposit options for both US players and other players worldwide. Most of these deposit methods can be used for withdrawals as well (such as Moneybookers), whereas others (such as credit card) can only be used for deposits.
Deposit options for American players consist of Credit Card (Visa and MasterCard), UseMyWallet and Quick Cash. Players outside the United States have those options available to them as well as EcoCard, Neteller, Click2Pay and Moneybookers.
For full details on which deposit and withdrawal methods are available to you, visit Millionaire Casino.